with
The Voice: Steve Perry
.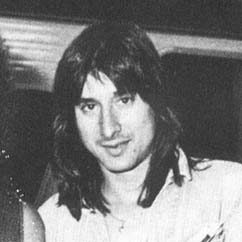 If you know me at all (and no one really does because, let's face it, who would want to? I am dark and twisty, but not in a sexy Meredith Grey kind of way, in a Shannen Doherty mixed with Kathy Griffin kind of way - I don't even know what that means.) chances are you're aware that I have an unusual affinity for all things Steve Perry and/or Journey related. The Voice is ranked number one on my list of top male singers ever (he is followed by Michael Bolton, Bob Dylan and Richard Marx - j/k, my real list is The Steve Perry, Freddy Mercury and Michael Bolton) and I will argue the angelic supremacy of his otherworldly vocal chords forever, or at least until my Pop-Tart is done. While The Steve Perry has always been (a) God in my book, it was the inclusion of the poptastic hit
"Don't Stop Believin"
in the exquisite finale of The Sopranos that brought
Journey
to the forefront of American culture. Again. [Where a band this great belongs. By this I mean before Steve Perry left.] Which is great for me, because now I have a legitimate reason to engage strangers in conversation about the greatness of that song, the band and SP. I want "Don't Stop Believin'" played as
my first (choreographed) dance at my wedding
. I want it blaring
when we sign the divorce papers
. I want it
blasted at my funeral
. Honestly, one of my happiest memories is jumping up and down at
Siobhlogger's
wedding to the live band that played the SHIT out of our request. It's also the only memory I have of her wedding, but that's neither here nor there. This song makes me want to be from New Jersey. Or maybe even Detroit. This song makes me want to hop into a Camero with T-tops and get a perm. I want to spontaneously translate this song into Spanish. I wish my name were Sherrie. Maybe just my middle name.

via Matt Sears Forever via Super Deluxe
And of course...