There are a lot of things I regret. Most things, actually. It's weird, though, the things that stick in my head. It's not the big stuff, but these strange little-ish things that pop up every now and then.
My dad bought me a purple My Little Pony with white daises on its butt. Then he took me to Sonic for a cherry vanilla coke. This was when I was maybe 4. I remember taking the pony and throwing it out the window, telling him she wanted to be free.

About the same time, a storm blew a robin's nest out of the tree in my backyard. All of the pretty blue eggs lay cracked on the ground but one. I took it inside and tried to incubate it while watching cartoons. I broke it.
On the killing of innocent animals theme, I was at Frontier City (shitty western themed amusement park in OKC) and was running to the Renegade Rapids ride. I slipped on something and fell. I'd run over a frog.
In high school, I was a total bitch to my English teacher and had no problem letting her know it. Once she asked me if I didn't like her. I looked at her like she was crazy. Of course I like you, I said.
When I was about 10, I had the stomach flu and my dad bought me an easy bake oven as a distraction, I suppose. A weird distraction for someone puking, but nevertheless, a sweet thought. Until I left the little spatula in it reducing it to a melted mass of vanilla smelling plastic.
I cheated on my high school boyfriend by making out drunkenly with this total whack job. Shouldn't have done that.
My mom's stepmother used to buy me these stupid birthday angels every year. They're ceramic and ugly and awful and I loaded them all up in a box when I was 18 and shook them up. I think I told my mom I accidentally gave them to charity with other stuff when I was moving out.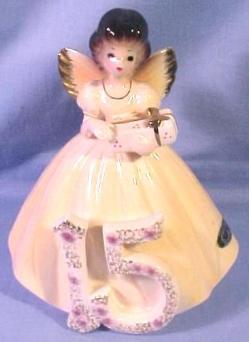 When I was in elementary school, I really wanted to be one of the cool kids. I wanted to go shopping in Dallas, attend the father-daughter ski trip in Breckenridge, go to camp Kanakomo, wear Guess jeans and Cole-Haan loafers, etc. As a result, I deemed L-Ma an out of school friend only until probably 7th grade.
On New Years Day 2000, I brought home a puppy (Claire!) that I told my parents I'd found on the side of the road when really, I'd seen an ad for her at a local grocery store, then went to pick her up at a farm where there was a 20 foot high Jolly Green Giant replica in the yard.
Back in my jazz dancing days, probably when I was 12 or so, I had this teacher that was teaching us a dance to the Prince song from Batman. I totally rolled my eyes and told her the song was retarded. She changed the song to Someday, by Mariah Carey. We sucked.