Actually, it's not so much funny as I got totally lost. My mom doesn't even read anymore and my Technorati has gone negative, but after a month or so or three or six of half-assedness, I have returned! But that's pretty much it. It's not going to be better, per se, as it were, inasmuch as I will try to post more frequently until I get that email that every blogger dreads, you know the one from your best friend from the internet that you never met who kindly suggests you, in the words of Rex Manning, just fade away. In the meantime, a photo essay of my excuses.
1. I drink too much it seems.


These are my friends from high school. We gather together at Christmas to get shitfaced and engage in risky driving behaviors.
2. I Joined a band.
We practice every weekend night at about 11pm for an hour or so and then reconvene at 2am for a couple of hours until we pass out from
beer
creativity and artistic expression. We're somewhat of a cover band and don't play real instruments, I suppose, if you want to get all specific and shit. Except for me. I excel at belting out Weezer's "Say It Ain't So" at quite an unreasonable volume.
These are my band mates. Would you believe that two of these kids are in law school? Me either. I fear for our legal system.
3. I was a lady that lunched.
My dear friend C-tina was able to jet over from Slovakia to get a little OK QT in over the break. We ate a lot of food, talked a lot of trash, and I even introduced C-tina to Forever 21 where she actually purchased something, which means I am 2/3 of my way to accomplishing my life goals. The last third is to have more than one comment on this post. The other third is a secret.
4. I became (even more) unhealthily obsessed with The Wire.
When I played hooky from work to catch up*** on season four (it was on demand, I couldn't help it) during daylight, while continuing my quest to complete season two in the evenings all before season five started a couple of weeks ago, I knew I had a problem. And no, I can't go out tonight. Season three just arrived in the mail today.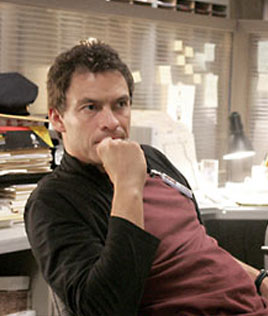 So, there it is. I am contemplating whether or not to keep my "regular" features including but not limited to "Zack Harrison Memorial Music Monday," "Cringesday" or "Robert Goulet News Round Up Or Whatever I Used To Call It (I'll throw you a bone today, Heath Ledger bit it)," and It's Friday, I'm In Love. * Any thoughts? Or not? Well folks, I'd get out your J.Crew
wellies
because it's about to drivel.**
*I tire of using quotes.
**That is officially the worst joke I have ever perpetrated.
***Hyperbole, duh.